The History of Honda Si Cars in America
From the 1985 Honda Prelude Si to the new 2022 Honda Civic Si, enjoy this brief history of Honda Si models sold in the U.S.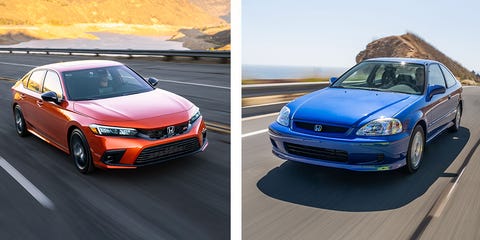 For more than three decades, Honda models wearing little red Si badges have been among the most affordable and fun machines on American roads. Short for "sport injection" but really just a marketing term for fuel injection, the moniker first emerged in the mid-1980s when most Hondas were still carbureted. Enhanced with fuel injection, the Si's tiny engines had the extra power needed to set them apart. In 1985, the sleek CRX hatchback and the pretty Prelude coupe became the first Si models to reach our shores, with a Si-badged Civic hatch following soon after. Honda would go on to build Si variants of the del Sol targa and even a Civic sedan.
While not as focused on balls-out horsepower as, say, BMW M or Mercedes-AMG, Honda's Si vehicles nonetheless carved their own impressive path to enthusiast hearts with smooth, high-revving engines; slick gearboxes; and sharp driving dynamics. Over the years, no Si-badged Honda has done us wrong, even if their engines' redlines have fallen from the peaky heights reached in the early 2000s. With the recent introduction of the 11th-generation Honda Civic, the Si's rabid following will soon see a new version of their favorite four-wheeled steed. In the meantime, here's a brief history of Honda Si models sold in the U.S., but be careful—your device is about to hit VTEC, yo.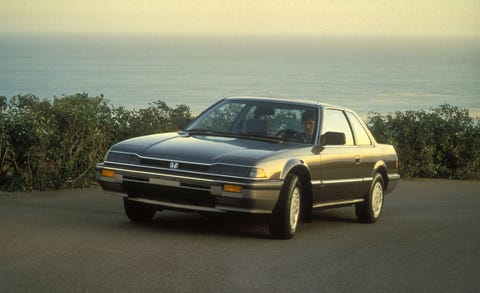 1985 Honda Prelude Si
The Prelude Si was one of the first two Si models to go on sale in the U.S., and what an introduction to the badge. The second-generation Prelude is still one of the more attractive cars of the 1980s, and when Honda stuffed a fuel-injected 2.0-liter four-cylinder under its low-slung hood, things went from good to great.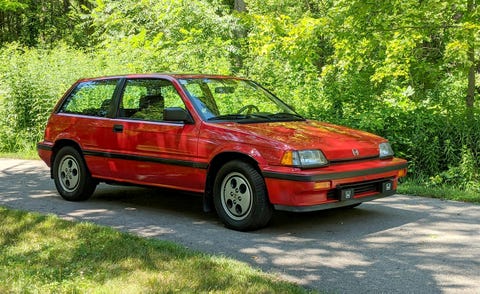 1986 Honda Civic Si Hatchback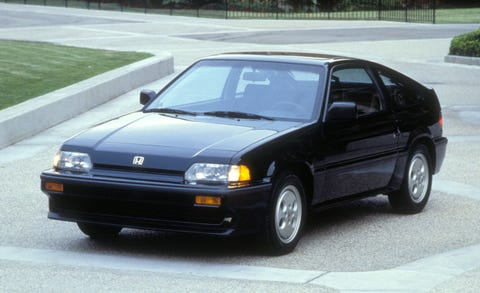 1986 Honda CRX Si
Introduced for 1985, the CRX Si came with a fuel-injected 1.5-liter four-cylinder and a five-speed manual. Output stood at a peppy 91 horsepower and 93 lb-ft of torque; it doesn't sound like much, but the car weighed just 1840 pounds and the regular CRX pushed out just 76 ponies and 84 lb-ft. The suspension was the same as on normal CRX's—hardly a demerit, given how fun to drive it already was. In our original CRX 1.5Si test, we hit 60 mph in 9.1 seconds, a 1.3-second improvement over the non-Si car. Top speed similarly improved, from 103 mph to 112.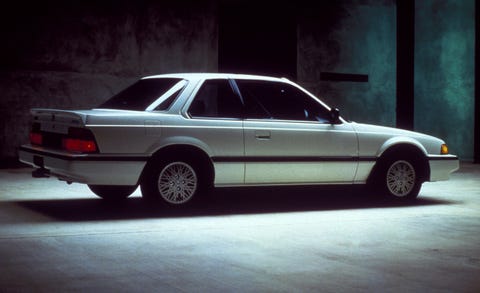 1986 Honda Prelude Si
There were no major changes to the Prelude Si for 1986, but this is a good view of the coupe's slick proportions and clipped tail.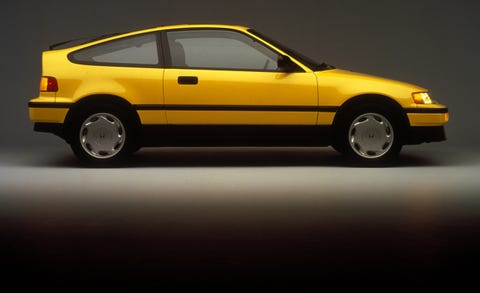 1988 Honda CRX Si
As charming as the first-generation CRX was, the second-generation model adopted smoother, more-attractive styling. And an Si variant was included from the get-go. An all-new, all-aluminum 1.6-liter four-cylinder bumped power from 91 horsepower to 105 and again came mated exclusively to a five-speed manual transmission. For the first time, the CRX Si's suspension differed from that on regular CRXs, with stiffer dampers, a larger front anti-roll bar, and a rear anti-roll bar (the stock CRX did without a rear bar). In 1988, the term "sporty" was apparently loose enough to include five-inch-wide, 14-inch aluminum wheels. The Si's 185/60-14 tires were also the "sportiest in the Civic line." One notable feature Honda added to every CRX for 1988? The little vertical half window in the liftgate. It was tinted more darkly than the other windows so as to appear to be part of the hatch.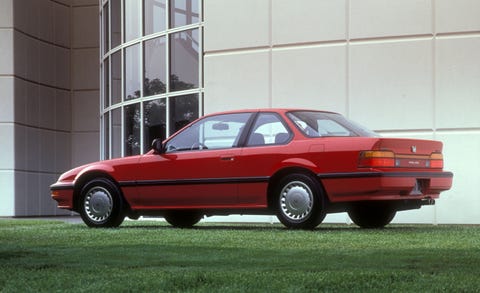 1988 Honda Prelude Si
Like the CRX and the Civic, the Prelude coupe was redesigned for 1988. The Si model returned with a fuel-injected 2.0-liter four-cylinder engine making 135 horsepower and 127 lb-ft of torque. Performance—and the aural signature of the engine—was aided by a dual-stage intake manifold, while Michelin 195/60-14 rubber wrapped around standard steel or optional aluminum wheels. An intriguing four-wheel steering system was optional. (No, it wasn't called P-AWS—Precision All-Wheel Steering—like Acura's similar system of today.) At low speeds, the rear wheels would turn against the fronts up to 5 degrees; at higher speeds, the rear wheels turned with the fronts to enhance stability.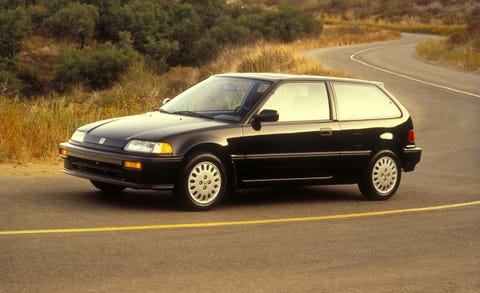 1990 Honda Civic Si Hatchback
Honda actually introduced this generation Civic Si in 1989, a year after the fourth-generation Civic debuted in the U.S. The entire Civic line—including the CRX—shared a similar front-end treatment with an exceptionally low hood, slim headlights, and cleanly styled sheetmetal. For the Si, Honda fitted the same aluminum, 16-valve SOHC 1.6-liter four-cylinder engine found in the CRX Si. Here, the engine made 108 horsepower. A power sunroof highlighted the Si's standard-equipment list. This being 1990, a sporty car was allowed to wear steel wheels with hubcaps.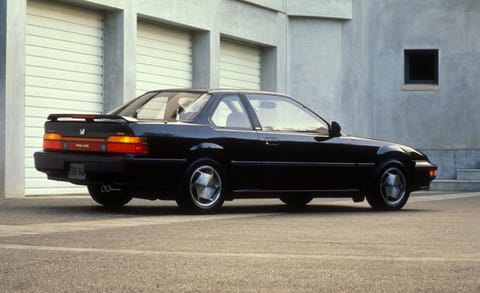 1990 Honda Prelude Si 4WS
Prelude Si models equipped with the optional four-wheel steering system were top-of-the-line in 1990 and came more or less fully loaded with aluminum wheels and a rear spoiler with an LED-lit center brake light. If the windows of this Prelude Si 4WS look brownish, congratulations, your vision is sharp. The four-wheel-steering package included bronze-tinted glass, as well as power door locks. No, we aren't sure what those two options had to do with one another, either.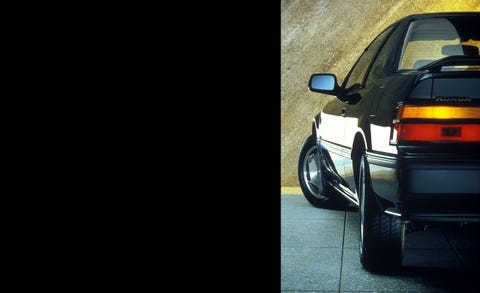 This shows just how aggressively the Prelude Si 4WS rear wheels could turn against the fronts. The system was entirely mechanical; an extra pinion gear in the front steering box turned a long shaft that ran to a second steering rack on the rear axle. A complex planetary gearset separated subtle steering inputs from aggressive ones. At any speed, if the driver delivered between 0 and 140 degrees of steering input, the rear wheels steered with the fronts up to 1.5 degrees. Inputs above 140 degrees gradually returned the rear wheels to straight, and when the driver's input reached 246 degrees, the rear wheels were realigned with the fronts with 0 degrees of toe. Past 246 degrees, the rear wheels turned against the fronts up to a maximum of 5.3 degrees. Complicated? You bet, but given how many actuators and electronics modern four-wheel-steering systems require, Honda's system was elegantly streamlined—and downright insane in 1989.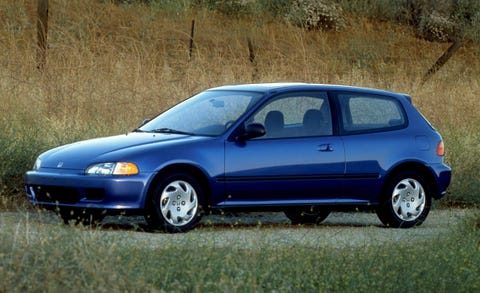 1992 Honda Civic Si Hatchback
For 1992, the Civic lineup was redesigned with a doughy, rounded body and more modern underhood technology. Fuel injection became standard across the Civic line, meaning Honda had to give the Si hatch a few new tricks to keep it ahead of the pack. These tricks took the form of variable intake-valve timing and lift (VTEC). At lower engine speeds, the timing and valve lift was mild for better torque; at higher engine speeds (5000–5500 rpm), it switched to a profile that opened the intake valves sooner and kept them open longer for more outright power. The result? The Si's 1.6-liter four produced 125 horsepower and 106 lb-ft of torque and was EPA-rated for 29 mpg in the city and 36 mpg on the highway. Oh, and the Si still made do with humble steelies with hubcaps, because awesome.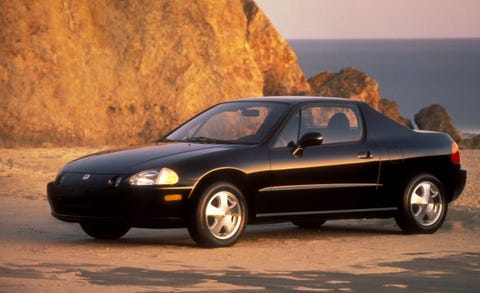 1993 Honda Civic del Sol Si
With the CRX dead and gone, apparently someone at Honda felt the need to still offer a two-seat, Civic-based thing—and thus was born the del Sol targa-roof roadster. Right away, there was an Si version, which got the same 125-hp VTEC-equipped 1.6-liter four found in the 1992 Civic Si. The del Sol's central roof panel could be lifted off and stowed in the trunk for open-air motoring. Every del Sol came with power windows—including a power-sliding rear window. In addition to the hot engine, del Sol Si variants also got four-wheel disc brakes, standard power steering, and 14-inch aluminum wheels in place of the standard model's steelies.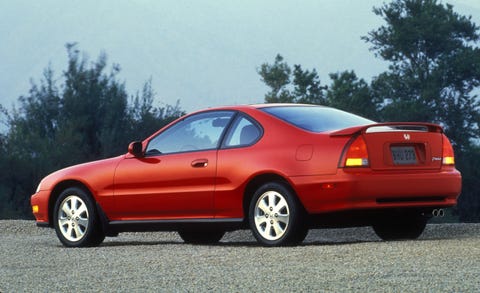 1993 Honda Prelude Si 4WS
Also new for 1993 was a redesigned Prelude, and along with it, a fresh Prelude Si with 160 horsepower and 156 lb-ft of torque from a 2.3-liter four-cylinder. Interestingly, Honda offered a Prelude above the Si dubbed "Prelude VTEC," and gave it a 190-hp 2.2-liter four.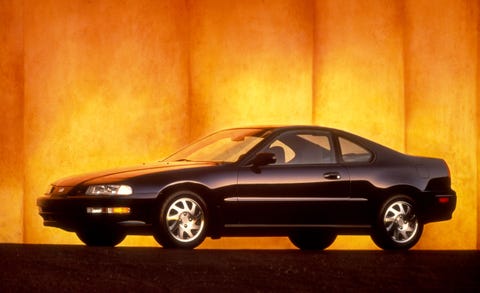 1994 Honda Prelude Si
Once again, Honda made four-wheel steering an option on the Prelude Si. The new system was electronically controlled and speed-dependent; above 19 mph, the rear wheels steered with the fronts. Below 19 mph, they turned against the fronts.
1999 Honda Civic Si Coupe
After a long hiatus, the Si badge was once again affixed to the tail of a Civic. This time, Honda chose the coupe body as the base and turned up the wick on its performance. In addition to stiffer springs, dampers, and anti-roll bars, as well as larger front brake rotors, Honda blessed the Civic Si with a screamer of a four-cylinder engine.
The Si's 1.6-liter DOHC four redlined at 8000 rpm and put out 160 horsepower and 111 lb-ft of torque. As with previous Si models, it needed to be revved for max haste. That, of course, was hardly a problem—zinging the little four-banger past the VTEC (variable valve timing and lift) system's low-speed cam profile resulted in a wonderful engine sound. If you needed any more proof that the 2000 Civic Si was a focused driving machine, Honda offered just three colors: Flamenco Black, Electron Blue, and this Milano Red hue.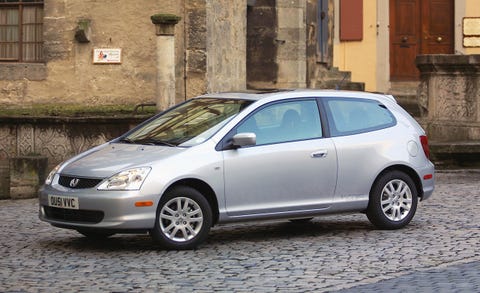 2002 Honda Civic Si Hatchback
The 2003 Civic Si hatchback is one of the breed's more bizarre members. That's because unlike every Civic Si before or since, it didn't have an equivalent non-Si version. While Honda also sold its sixth-generation Civic in non-Si coupe and sedan body styles, the Si was a three-door borrowed from Europe. It may have been borrowed goods, but the Si had several things going for it, starting with torque. The 2003 model featured a bigger 2.0-liter engine that produced 132 lb-ft of twist—21 more than the older Si's 1.6-liter four. The two engines produced the same 160 horsepower. Performance was good—0-to-60 mph took eight seconds flat—but with a lower redline, this Si felt less "zingy" than its predecessor.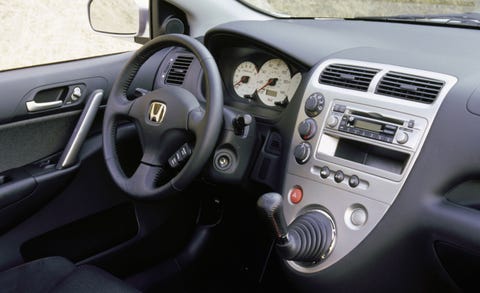 One of this Civic Si's most unusual features was its dashboard-mounted shift lever. It might look strange, but its placement was near-perfect: It was just a short reach from the steering wheel, and it operated with the same tight smoothness we'd come to expect from Honda gearboxes.
2006 Honda Civic Si Coupe
After the 2003 Si was met with tepid interest, Honda brought back the coupe body style for 2006 when the Civic line was again redesigned. Honda also brought back the 1999–2000 model's racy, high-revving nature. Power came from a 2.0-liter DOHC four-cylinder with a redline well north of 7000 rpm. In fact, its 197 peak horsepower arrived at 7800 rpm—and there was still a usable 139 lb-ft of torque down low. With its rev groove back, the Civic Si was, once again, a shrieker. In its first comparison test, it posted a 6.7-second zero-to-60-mph run, just one tenth of a second behind its foe, the turbocharged Volkswagen GTI.
2007 Honda Civic Si Sedan
Wave hello to Honda's first-ever Civic Si sedan. It married the contemporary Civic Si coupe's hot running gear to the Civic's four-door body to good effect. Thanks to this Civic generation's sleek, spaceship-like design, the Si sedan didn't give up much in the way of aesthetics to the coupe variant. Thanks to this Civic generation's sleek, spaceship-like design, the Si sedan didn't give up much in the way of aesthetics to the coupe variant.
2008 Honda Civic Si Sedan, Mugen Edition
You'd be forgiven for thinking this was just some schmoe's used (and modified) Civic Si sedan, but it isn't. Longtime Honda tuner Mugen collaborated on this special-edition Civic Si sedan, generating a four-door with a noticeable body kit, 18-inch GP wheels, an upgraded suspension, and a freer-flowing exhaust. Oh, and it got a giant wing, too.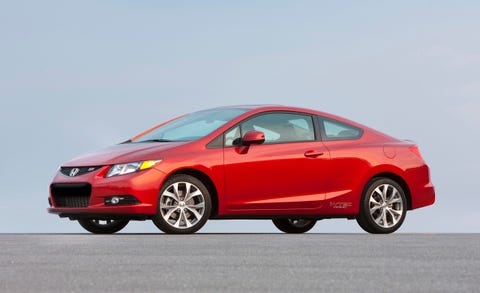 2012 Honda Civic Si Coupe
Ah, 2012—this was a tumultuous time for the Honda Civic. The redesigned regular models debuted to atypically "meh" reviews, and when the compact failed to earn a "recommended" rating from Consumer Reports for the first time in decades, Honda immediately went back to the drawing board. This 2012 Civic Si met a similarly cool reception from enthusiasts. In a world quickly proliferating with turbocharged hot hatchbacks, the Civic Si's naturally aspirated engine suddenly began to seem outclassed. As they had done in 2003, Honda fans once again faced down a lowered redline—now just 7000 rpm. In fact, the new model featured the torquiest engine ever fitted to a Civic Si, with 170 lb-ft on tap from 4400 rpm. Peak horsepower rose by just 4 ponies to 201. Performance improved, however, with the trip to 60 taking just 6.3 seconds in our first test. The Civic Si sedan was a part of the lineup from the beginning this time around.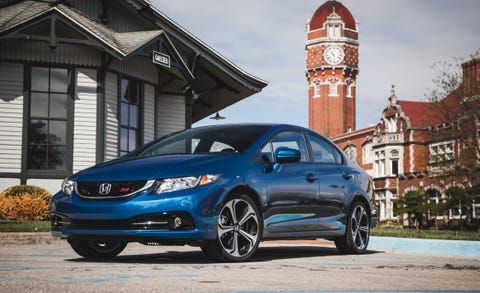 Michael Simari
Car and Driver
2014 Honda Civic Si Sedan
Remember that whole bit about the 2012 Civic getting a chilly critical response? Well, Honda brought out a revamped sedan and coupe in record time just one year later for 2013. The Si variants needed to wait another year beyond that, however, to receive the updates. While mechanically not much was changed, the new Civic Si did get mildly tweaked styling front and rear—and the sedan got a big wing. Notice a similarity between the refreshed Si's wheel design . . . and that of the 2015 Volkswagen GTI?
2017 Honda Civic Si Coupe
Following the debut of the 10th-generation Honda Civic a year earlier, which we praised for its improved refinement but debated over its odd styling, the Si coupe and sedan variants arrived for 2017. Perhaps more polarizing than their new look was the switch from a naturally aspirated four-banger to the badge's first-ever turbocharged mill. Despite breaking from tradition in the engine department and abandoning its signature VTEC character, the rest of the Si recipe was both familiar and remarkably better than before, especially in terms of handling. While the Si's turbocharged 1.5-liter inline-four lacked the high-revving personality of its predecessors and produced the same 205 horsepower as the NA 2.0-liter four that it replaced, the turbo helped summon all those horses 1300 rpm sooner at 5700 rpm, and its extra 18 pound-feet of torque (192 total) arrived 2300 rpm earlier at 2100 rpm. Likewise, all that torque was accessible over a much wider powerband. This helped make the Si feel more responsive than ever, and it also meant the six-speed manual–once again the sole transmission–didn't have to be shifted as frequently as with the high-strung VTEC valvetrain.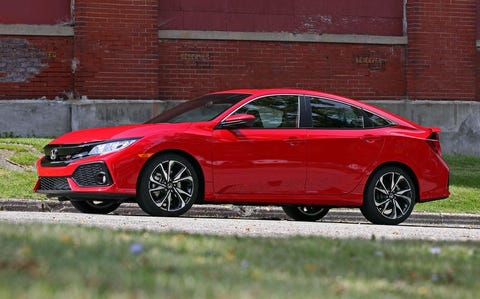 2017 Honda Civic Si Sedan
The '17 Si coupe and sedan were also lighter than their predecessors by a claimed 113 and 96 pounds, respectively. Additionally, Honda made them more rigid than before and widened their track for improved stability. Compared with the regular Civic, the Si siblings featured a helical limited-slip differential, larger front and rear brakes, and a sportier suspension setup. The latter included two-mode adaptive dampers with stiffer springs as well as stiffer anti-roll bars and bushings. What the first turbocharged Si lost in aural excitement it gained in handling acumen. Here, the chassis is the star of the show, and, surprisingly, its incredibly roll-resistant body control didn't affect its ride quality, which was also impressively pliant. Equipped with the optional $200 Goodyear Eagle F1 Asymmetric 2 summer tires, an Si coupe posted 0.97 g on our skidpad, which tied the BMW M3 and Jaguar F-type of the day.
As with the regular 10th-gen Civic, the 2017 Si's interior benefited from a decluttered dashboard design and better overall quality. Inside, it featured unique appointments such as aluminum pedals and carbon-fiber-esque trim. A set of one-piece sports seats with firmer bolsters, red stitching, and Si logos in the seatbacks were also exclusive and standard.
2019 Honda Civic Si
For the 2019 model year, Honda addressed one of our biggest complaints with the Si and the Civic in general­–their lack of a volume knob. While seemingly insignificant, it was one of the sport compact's few weaknesses, and its addition (along with bigger cupholders and more intuitive steering-wheel-mounted controls) was much appreciated.
2020 Honda Civic Si Coupe
Not only did this generation of Civic Si bring about the death of natural aspiration, but it also marked the end of what became its most quintessential form, the coupe. Honda announced that 2020 would be the last year that it would build any two-door Civic. The company also said that the Si badge would take some time off after this model year in preparation for the forthcoming 11th generation of Civic.
2022 Honda Civic Si
After a brief halt in production during the 2021 model year, the Honda Civic Si is back. It joins the new 11th-generation Civic sedan and hatchback with new looks inside and out. The new Civic Si uses a 200 horsepower turbocharged 1.5-liter inline-four with a six-speed manual transmission. Unlike the previous Si, this car has a longer wheelbase and is only offered as a sedan. A limited-slip differential is standard, but this time around the Si doesn't use adaptive dampers. There are two different wheel choices, both 18-inch options, and buyers can choose a more aggressive Goodyear Eagle F1 Asymmetric 2 summer tire for $200 extra. During our acceleration testing with these optional tires, the Civic Si got to 60 mph in 6.8 seconds and reached a quarter-mile in 15.1 at 94 mph. That's 0.2 second slower than the previous Si.
This content is created and maintained by a third party, and imported onto this page to help users provide their email addresses. You may be able to find more information about this and similar content at piano.io